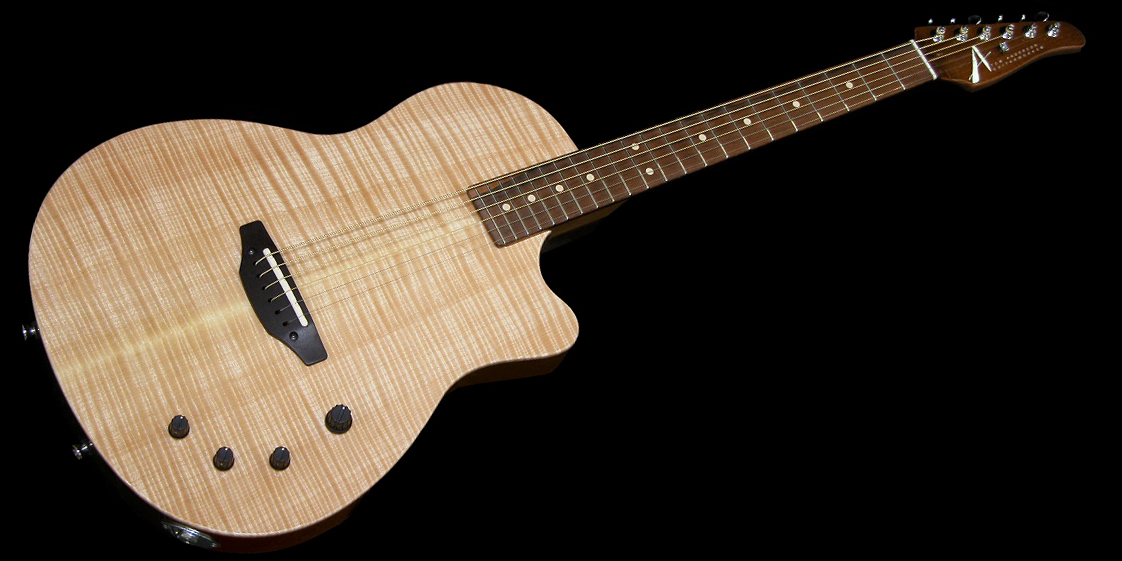 Live music acoustic guitar tones at their best, with no compromises
Crowdster is the no compromise live music acoustic guitar that finally brought a happy ending to the syndrome know as:

Acoustic Guitar Misbehaving In A Live Playing Situation And I Wish It Could Sound As Good As It Does In The Studio trauma once and for all. (AGMIALPSAIWICSAGAIDITS, for short)

Anyone who has wanted to bring the full and rich sound and timbre of an Acoustic Guitar to the stage knows it is filled with the pitfalls of troublesome feedback and compromised tonality. Sound hole plugs and re-EQing in order to bring it somewhat under control is only a stopgap solution that diminishes lush characteristics and has frustrated many an acoustic guitar player over the years.

The unequivocal answer is here: Not only does a Crowdster play with free flowing non resistance, but you can set your acoustic amp or PA system to project all the tonalities a rich Acoustic Guitar should have and play all night long. Giant, lush, thundering bottom and definitive highs with plenty of midrange support. And, when the energy of the evening increases and volume levels push up, you can easily match that by competently keeping up with whatever the bass and drums decide to do, while your bountiful acoustic guitar tones remain firmly unaltered.

With Crowdster there is no compromise, just pure playing pleasure.

 
Explore your Options: